Peter Forêt is Ottawa/Gatineau's busiest musician and entertainer. Besides performing over 200 seniors' shows each year, he's one of the region's top free-lance guitarists. Peter regularly plays guitar in the pit orchestra for the Orpheus Musical Theatre Society and has performed at corporate events, restaurants and nightclubs as a jazz, country and rock guitarist and singer for dozens of local bands.
He's played guitar for internationally known artists such as Martha Reeves [of "Dancing in the Street" fame], Alanis Morrissette, comedian Bob Newhart and impressionist Rich Little. In 2010 Peter performed for Canadian and international troops in Kandahar and Kabul [Afghanistan] and Dubai [United Arab Emirates] as part of the Canadian Forces Show Tour.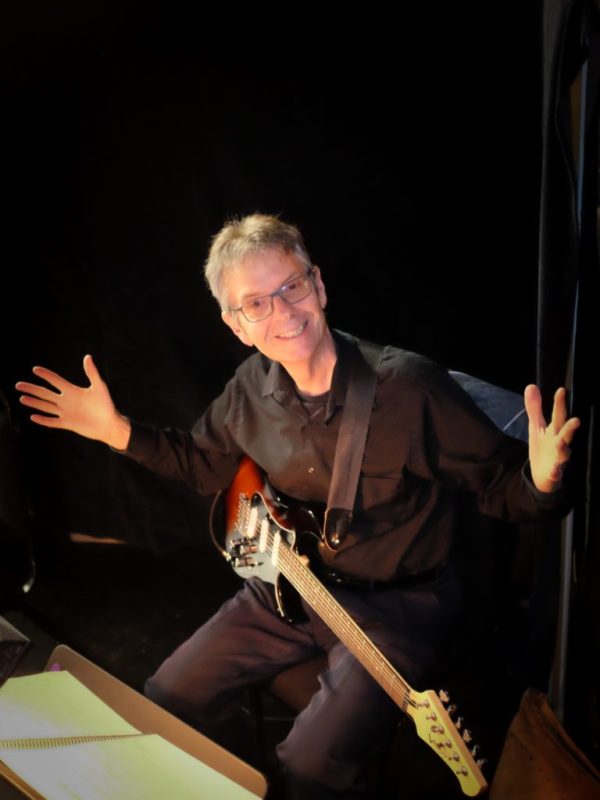 music lessons on guitar
knowing WHAT to play
Most people who contact me for lessons want to learn how to play guitar. But if you don't understand how music works – how to recognize keys, chord progressions. melodies, bass lines and rhythms by ear, what notes comprise those chords and melodies, how to arrange a guitar part in an interesting, musical way by incorporating all these elements – you'll find it difficult to play in a creative, personal way. Sure, you can be taught songs and techniques with diagrams and tabs, but you won't understand what you're doing or why. It's actually much more difficult to play this way, and you're likely to lose interest eventually.
It's my mission to help you understand what you're hearing when trying to figure out your favorite song, and be able to translate what you hear into a musical, personal guitar part. Playing in this way is fun and satisfying, and is likely to become a lifelong passion.
This method has worked with dozens of my students. It's really up to you to have the discipline to put in the practice time. For beginners, 2 to 3 hours a week of focused practice [30 minutes a day] will, in time, get results. 
Contact me for a free in-studio consultation.