peter forêt's parlour songs
music concerts for seniors
Performing over 250 shows a year since 2010, Peter Forêt is Eastern Ontario's premier seniors' entertainer. His 60 minute show features period costumes, skilled guitar playing, soulful singing, dry humour and an engaging personality. 
Peter's concert show is unlike any entertainer in the region. Spanning 100 years of popular music, his repertoire is diverse in style and substance. "I haven't heard those songs in years!" and "I knew the words to every song!" are typical  comments received after a show. Do you have francophone residents? Peter's repertoire includes French songs.
About the show
"My set contains 'old time' music from the 1890's through the 1930's, songs that many of our seniors sang with their families when they were kids. I try to recreate that family atmosphere each and every show. I find that, often, residents will approach me after a show [with a smile and the occasional happy tears] recounting memories of their childhood, gathered around the piano after a family dinner and singing old-time favourites together. 'You've made my day'…I hear that a lot."
The 60 minute show has a relaxed and intimate feel, with plenty of interaction, eye contact and audience participation [lots of singing-along!]. Many local residences have been booking Peter for 8, 9, 10 years or more, and continue doing so to this day.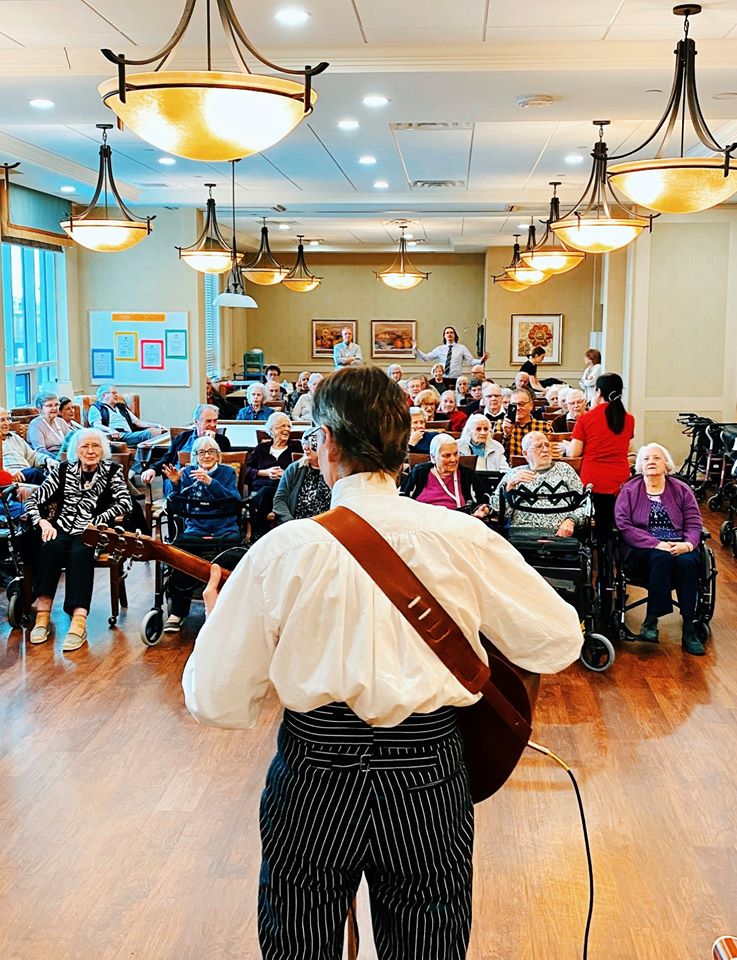 About Peter Foret
A full-time professional musician since 1972, Peter moved to Ottawa in 1982 and soon became one of the busiest musicians in the region. A highly skilled guitarist and versatile singer, he's able to perform music that most seniors' entertainers aren't able to without computer-generated backing tracks, laptops and tablets.
Peter has played guitar for internationally known artists such as Martha Reeves [of "Dancing in the Street" fame], Alanis Morrissette, comedian Bob Newhart and impressionist Rich Little. In 2010 Peter performed for Canadian and international troops in Kandahar and Kabul [Afghanistan] and Dubai [United Arab Emirates] as part of a Canadian Forces Show Tour called "Taks Force Afghanistan".